The following Blog was written by a 30 year old female (whose name remains confidential).
My diary:
Before my treatment I had a consultation where my lifestyle and medical health were talked through.  I also had a mini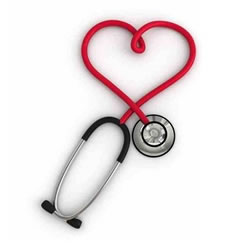 skin treatment then my skin was looked at under a big lamp (which was not a pretty sight!).  My skin was discussed and I said I wanted the wrinkles on my forehead and my angry lines to be gone!  I was told the different treatment options available and the one I liked the sound of was the anti-wrinkle injections, because it sounded quick and easy.
I wasn't allowed to have the treatment there and then and it was explained to me that I needed to go away and think about the treatment and to read the information leaflets and see how I felt after.  I did think this was a bit over the top but Louise explained that this treatment needs to be taken seriously and not to be thought of like a beauty treatment.  The product also had to be ordered in for me, like a prescription.
So I went away and read the information and did some research, then called back to book in for the treatment…My 30th birthday treat to myself!
My appointment day arrived and I felt slightly anxious about what to expect, but Louise talked me through the procedure, so I felt completely at ease.
I had to fill out another form which was more specific to the anti-wrinkle injections and I was given information about what to expect after the treatment, along with advice about what not to do (no gym for 48hrs-woohoo!).
When it was time to get up onto the treatment couch Louise talked through the procedure again and reminded me that there is a slight risk of me bruising but its uncommon.  Louise cleaned my skin and was making me pull faces to see how my facial muscles were moving and then took some photos.  After that, I can honestly say within 10-15 minutes it was all over!  And I felt no pain AT ALL!  Which was quite unexpected.
I looked in the mirror and apart from a few red spots I couldn't see much, which was normal apparently… and I was reminded it can take 2-3 weeks to fully take effect.
Image below: Forehead lines before and at review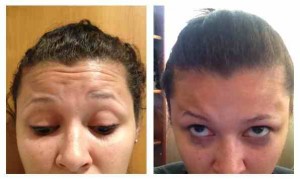 After my treatment:
A couple of hours later I had a mild heavy headed feeling, but it was bearable and not painful.  I was conscious not to touch the area (nurses orders!) but I actually forgot I'd had it done once I got on with my day..
The following day:  No pain still, maybe a very mild headache which may have been psychological, but I knew I could take paracetamol and actually I didn't need it.
Day 5:  Where have my lines gone?!? I woke up to the surprise of having hardly any line's on my forehead.  This was a shock, as I wasn't expecting to see any result for over a week!! This was great!  Plus I still had movement and can still convey expression.
Day 7: Frown lines almost gone!!  I still have movement but my frown line's are much more subtle.  I must admit the sensation is a little bizarre (some kind-of awareness that something is there, but hard to explain) but not painful or restricting at all.
 Image Below: Frown area before and at review appointment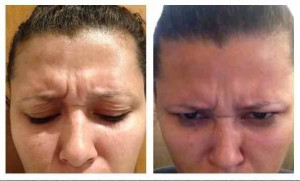 Following this, the odd 'heady' feeling I had initially disappeared and the lines did too!  Very pleased.
After 14 days I went back for a review, I wasn't sure that needed to but Louise was keen to see my response to the treatment and I wanted to see my before pics!  I ended up having a couple more tiny injections, Louise said this was needed to get the desired effect and balance out the result and she could see how the muscles had responded to the treatment.
Following the review:  Almost line free!!  Still some movement although I feel like it's moving lots!  People have started noticing I look more 'fresh faced' and  I'm wearing less make up too, not sure why!  I still have enough movement in my forehead for it to look natural but it looks and feels baby soft, I'm really pleased with the result and it's all in time for the party season…Thanks Louise.
End.
I'd like to say a big thank-you to this very open and honest client for offering this information and agreeing to it all being published here, along with her photos, in the hope of helping to reassure anyone who might be considering this treatment.  'Knowledge is Power' as they say, and this straightforward contribution answers lots of the questions I get asked frequently regarding anti-wrinkle injections.
*Please note the before and after pictures were taken at the time of treatment and again at review.
The consultation process is to decipher which treatments are suitable for you individually.  You will be given the risks and benefits of treatments. Anti-wrinkle injections are not suitable for everyone. Another treatment choice may be more favorable.
It is very important to ensure your practitioner is a medical professional and is qualified and competent to prescribe and administer the treatment.  Remember: Anti-wrinkle injections are not a beauty treatment!
I always offer and encouraged a post anti-wrinkle injection review.  Post treatment information and guidance is always given verbally and in writing, it is critical to follow this as it is part of the recovery process.
If you have any questions or would like to book a consultation, get in touch today!