So you're thinking of getting your lips done..?  Or maybe you've had them treated before and you've been recommended to me..?
Either way, you need to know how I work, what products I use and if you should book a consultation or not. I offer lip fillers at my Teddington clinic for over 30's only. This procedure is also known as lip augmentation or 'restoring lip volume'.
I know you don't want big ridiculous looking lips.
Now I'll be very upfront about this because it's important that you know – I do not do big trout pout lips.  I don't think it's attractive and I don't believe it will help you to look your best. Lips should fit your face nicely and offer balance, not be overpowering or too obvious.  Don't get me wrong, I love a gorgeous pair of luscious lips and I'm very partial to a bright red lipstick myself but it's important that your lips don't look fake or 'stuck on'.  Assessment of your whole face is vital here.
Even though its a clinical procedure, it's quite an art.
Many skin issues can arise around our lip area and unfortunately when we see these changes it can make us look unhappy (downturned corners of lips for example) and unfortunately make us feel a bit crappy. But the good news is, by adding a little well-placed dermal filler to restore volume and hydration, improvements can be seen.
You may be thinking of having treatment to resolve any of these common issues:
The shape of your lips isn't what it used to be.
Your lips aren't symmetrical.
Your lipstick bleeds into the lines & creases, this drives me bonkers because I love dark/bright lipstick!
You have noticed a loss in volume of your lips and they seem thinner.
Your philtrum (cupid bow: area from your nose to lips) is now flat.
You have smokers lines around your lips.
You have no cupids bow defining the lip shape.
Your oral commissures (corners of your mouth) are lacking in volume which creates a sad look.
These imperfections can be easily treated by injecting a small amount of dermal filler to plump up the lines or correct the shape, subtly.
What can be done with the lips?
A lot of people shudder at the thought of having their lips 'done' because often we have a image in our heads of massive lips which quite frankly look ridiculous.  Hopefully you will be pleased to know – this is not a look I go for or promote.  I want my clients to look and feel great!
Its all about 'lip enhancement' and slight tweaks, not big lips.
Below are the FAQ's i am regularly asked about lips. Alot of this information is also on the dermal filler page.
What is a dermal filler?
Dermal fillers are clear gel substances based on the ingredient Hyaluronic acid, which is found naturally in our joints as a lubricant. Hyaluronic acid is very hydrating, it draws on water which is great for our skin!  You can read alot more about dermal fillers here.
How do lip fillers work?
Lip fillers are dermal/facial fillers.  They work by restoring volume which has been lost through the ageing process and genetics.
How long does a lip procedure take?
I always suggest to allow 30-45 minutes, some of this time will be spent discussing your needs, exceptions, aftercare and preparing your skin.
What happens at the lip augmentation appointment?
Presuming you have completed the consultation process and we both agree to go ahead… At your appointment, we would complete a consent form, allowing you time to ask any further questions and discuss your expectations again.  Following this I would thoroughly clean the area and I may apply some anaesthetic cream, once this has taken effect small amounts of dermal filler are gently injected into the lip area.  You will then be re-advised on how to look after your lips following the procedure and given all your aftercare advice.
Are there any side effects when having your lips done?
Many 'injectors' may not warn you of these side-effects but I am totally transparent, plus, it's vital for you to know.  Imagine if you had a wedding to go to the following day and your lips were swollen – you'd be a little self conscious right? As I'm sure you can appreciate, with anything that involves a needle, there is always a risk of swelling, redness, tenderness and potentially infection too, as the skin has being mildly compromised. Your lips are very vascular which means they may bruise, they are also extremely sensitive (lots of nerve endings; which is why it's a very sensual body part) so there may be some discomfort during the treatment and you may feel a little tender afterwards.  You are likely to get some swelling on the day, or some people get it the day after. These side-effects usually subside over the following few days.
How long will lip fillers last?
Juvederm dermal fillers last approximately 12 months.  Over this time your body will naturally start to metabolise the lip filler and your lips will return to the way they were pre-procedure.
Do lip fillers hurt?
Even though I am regularly assured that I am a gentle injector, some people do experience a little discomfort.  The truth is, a needle is being used, so there will be a bit of a sting. The more relaxed you are the better, easy for me to say, I know! The Juvederm range I use has some local anaesthetic in the product, so the idea is after the initial injection the area will feel numb.  This takes a hour or tow to ware off so you will feel like you've been to the dentist for a bit afterwards.
How much do lip fillers cost?
£300.00 – I charge a flat rate per syringe for lips.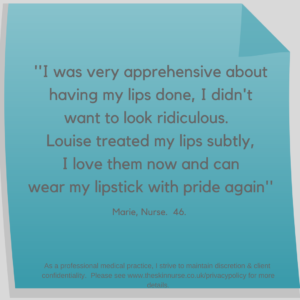 When will I see the results from lip fillers?
Immediately.  There can be a little swelling on the day, but you will see the overall finish before you leave the clinic.  I do believe that they will be at their best 3-4 weeks after, as they will have settled and the extra hydration from the dermal filler makes the lip area look gorgeous!
Why should you choose The skin Nurse to do your lips?
Good question.  Firstly, I am a medical professional – vital for cosmetic injectables.  Plus, I love creating beautiful natural looking lips and promise too look after you before, during and after your procedure.  For all the other important information you should consider before you book a consultation, you can read more about me, my experience and qualifications here.
What about AFTER my lip filler procedure?
You will be given clear aftercare instructions both at your consultation and again at your procedure.  It will also be emailed to you.  It is vital that you follow these instructions for best results.  Generally you will be asked to avoid touching your lips or applying makeup for at least 24 hours, you will also be asked to avoid any blood thing medications, alcohol and vigorous exercise for at least 48 hours.  Mostly, you can carry on as normal, alot pf people go back to work afterwards.
Top Tip for after you lip filler procedure:
Be careful with hot drinks for a couple of hours after your procedure incase the local anaesthetic is still active.  You don't want to burn yourself and probably don't want to dribble your coffee either!
So, what now?
This can be an exciting and apprehensive time, but I will look after you.  Firstly, make sure you check out some of my work over on my social media channels and like what you see.  You can also download my checklist 'What to ask your injector' (coming soon). The next step is to book a consultation to see if you're suitable for lip filler and we can discuss your options.