Although most of my clients come to me for Botox and Dermal filler injections, I cant help but give them all my skincare advice too, it just comes natural to me and I love it.
I love healthy glowing skin and that's what I want all my fab clients to have.
Here are my tips for you too
Post party skin
So your skin might be feeling a little parched…
Dehydration leads to dull tired skin, so let's get it sorted, and fast!
Start with a gentle cleanse and exfoliation if you can manage it.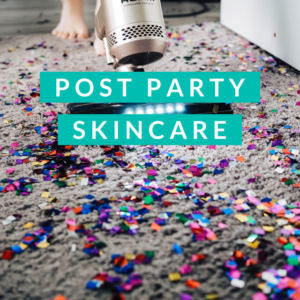 Then apply a super hydrating serum like this one (which is like giving your skin a super cool drink directly onto your skin) which I'm sure will be soaked up quickly!
Re-hydrate on the inside too – drink lots of plain water throughout the day.
Home made eye masks are good to cool and reduce post party puffiness, slices of cucumber are easy to hydrate and cool the eye area – simple and effective!
Fuel – Eat wholesome foods which feed the body, that fry up might seem like a good idea but you'll feel better later if you go for the tasty eggs and avo combo.
Take it easy today and get a early night tonight, but before bed:
Do your skincare (Get my 'modern day' 3-step morning and evening routine here)
Enjoy your sleep… you'll feel better in the morning 😉