We all want glowing skin, right?  Well this might be just what you've been looking for.
Ive been offering this procedure for a few years now, but in 2019 I noticed how many celebrities and online influencers are raving about it more and more, for very good reason…
The treatment is called Profhilo and it provides a massive amount of hydration to the skin, giving it a gorgeous healthy glow, without changing the way we look overall.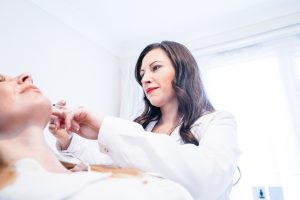 Profhilo® is an exclusive skin remodelling treatment designed for individuals with ageing skin that is lacking in volume and elasticity.  
I've given this procedure to both ladies in their 50s and 40's, to myself and a friend (both in our 30's, just) and the result, although not measurable like anti-wrinkle injections, is healthier, bouncier glowing skin.
Profhilo® is a Hyaluronic Acid based product which improves the appearance of fine lines and wrinkles on the superficial layers of skin and helps to increase hydration and firmness across the face.
Hyaluronic Acid is massively hydrating and superb for skin health, tone and texture.
One thing that confuses people with this procedure, because its based on Hyaluronic acid, is that it is the same as a Dermal Filler – this is not true.  Although dermal fillers are based on HA too, they are thicker and injected deeper into the skin to add volume and replace lifting when it has changed.
Profhilo doesn't change the way you look or the shape of your face, and this is why its so popular.
Get in touch if you'd like to discuss Profhilo further – Book in a consultation here.
Profhilo is injected at five different points on each side of the face, just under the skin.  I won't lie, it does sting a bit but its over very quickly.  Watch the video about to see the procedure and hear a client of mine speaking about it.
Have you tried Profhilo yet?  Any comments about it?  Let me know what you think.

Best wishes
Louise, The skin Nurse