Pre Party Skin
It's the festive season (Ho Ho Ho) we're all super busy with no extra time.
We're loosing sleep here and there AND we've got so many people to see!
Not to mention all the treats and chocolate that is EVERYWHERE!!
As you may or may not already know, although I specialise in injectables, I am a Dermatology Nurse too and LOVE all things SKIN.
I'm hoping these tips will help get you and your skin through with a gorgeous glow.
The week before the party
If you're super organised then you 'might' have had your mani and pedi and are well on top of your daily skincare routines (if you need any help with this you can download my FREE modern-day skincare routine and learn what you need to be doing on the daily without all the faff).
What else is there to do…this totally depends how far you want to take it I guess… gone are the days when I fake tan before a night out, If only I had the time and desire!  But if youre wearing a LBD then maybe a bit of fake-bake is worth the time 😉
The night before the party
If you're in the mood, and have the time…Have a nice bath and multitask with a nourishing face mask, not a clay mask or one for oily skin-you don't want to encourage any spots today!
The bath will help you to relax and sleep better, and the mask will help your skin if you have any dryness, and brighten your skin.
Most importantly – Sleep! Get a early night, aim to get a good 8-10 hours in (to bank a few hours?)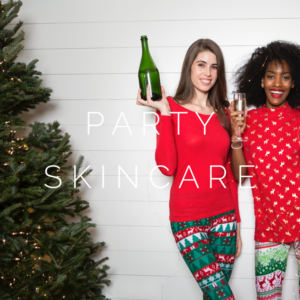 On the day of the party
Eat well – Aim for mostly nutritious colourful foods.
Drink plenty of plain water regularly throughout the day.
Get some fresh air.
Exercise if you normally would.
Before the party, on the night
Double cleanse to remove the days makeup, sweat and dirt.
Nourish and hydrate your skin with a sheet mask – This is one time when I think sheet masks are worth using to boost moisture and plump the epidermis – helping your skin to look glowy and it'll also help your make-up sit perfectly.
Massage in the excess serum if there is any, then apply your regular moisturiser.
Once that's soaked in, it's then time for your primer and make up…
If you get a break out – DON'T PANIC – apply something (like this) to the spot itself to reduce the inflammation and do not pick or squeeze! A extra layer of concealer and no-one will notice.
Prepare for later, get a big glass of water by your bed and leave your cleanser near the bathroom sink.
All thats left to do is get out there and have fun!
Enjoy your night, it's been a funny old year, you deserve it!