Your initial Pre-Procedure Consultation is FREE
This is your first step to working with me before any treatments and it cannot be skipped. Your consultation is very important and valuable for you and me.
A Skin-Fix consultation costs £50.
Anti-wrinkle Botox injections:
These are priced per area.  An 'area' is either frown-lines, forehead, crows-feet, bunny lines, cobbled chin etc.  Botox tends to last 3-6 months. 1 Area: £200 2 Areas: £280 3 Areas: £350 4 Areas: £410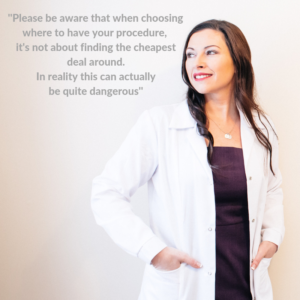 HIMtox (for males): 10% more of above prices, sorry guys! Botox for neck lines: £280 Botox for teeth grinding: £280 Botox for Hyperhidrosis, excessive underarm sweating: £500
Dermal Fillers
Wether we are adding volume, lifting or treating a specific line or issue, dermal fillers come in single use 1m syringes. I only use the Juvederm range nowadays and their Vycross technology is proven to be the best on the market (Not the cheapest) It is a revolutionary gel formula that gives your skin a smooth, natural-looking appearance and can last 9-24 months. In addition, these products contain lidocaine, a pain reliever that allows you to be more comfortable during and after treatment. First syringe £300 Further syringes £250 Under eye treatment – The tear trough area £600 Lips  Juvederm smile 0.5ml £250 1ml £350
Profhilo Skin remodelling
A singe treatment £350 course of three £950
Micro needling
Single treatment: £350.00 Course of three: £900.00
Skin Peels:
Mild skin rejuvenation peel from £95 Medium depth skin peels from £150 Note: Your skin must be prepared for at least 2-4 weeks prior to a chemical peel to avoid adverse effects.
The Skin Nurse Face-All
Approx 1 hour £250 A bespoke facial treatment for all skin types, includes a full skin analysis and gentle skin peel.
Blemish removal:
15 minutes £75 30 minutes £140
A note on pricing in the cosmetic industry.
These procedures are not cheap, I totally know that. You will certainly find special offers and deals in certain places. Please take into account when having medical grade procedures and injectables that it is vital to look at the practices and professionalism of your professional.  We are talking about your face and well-being here, compromises shouldn't be made to save a few £'s – the risks are too high. As well as the cost of the actual product, you are also paying for my time, experience, advice, expertise and aftercare.  Not to mention all the years of studying, training and ongoing education to keep my standards high.  Please read all that stuff about me here.
Payments can be accepted via card transaction or cash.