Introducing the FaceALL Luxury skin treatments.
Relaxing time-out for you and great results for your skin.
Maybe you know you need help with your skin, but you don't know where to start.
Perhaps your skin feels rougher and drier than it did, maybe it looks dull and lifeless.
Maybe you're frustrated with the skin you see in the mirror and know there's a alternative.
I know you're busy and you need time out just for YOU.
I can transform your skin from dull and lifeless to glowing, clear and healthy.
Which will not only help you to look fabulous but you will feel great too.
What can be improved?
Lines & Wrinkles
Dryness & Dehydration
Pigmentation & Brown spots
Redness & Sensitivity
Inflammation & Irritated skin
Dull & Grey skin
Congestion & Breakouts
Open pores & Oily skin
Sun damage & Photoageing
I know from experience that our skin and the way we look affects how we feel and when we take care of ourselves and look healthy its a real confidence boost!
I've created this treatment to combine the relaxing steps of a facial with medical strength products, tools and methods to ensure we get great results and you enjoy the process.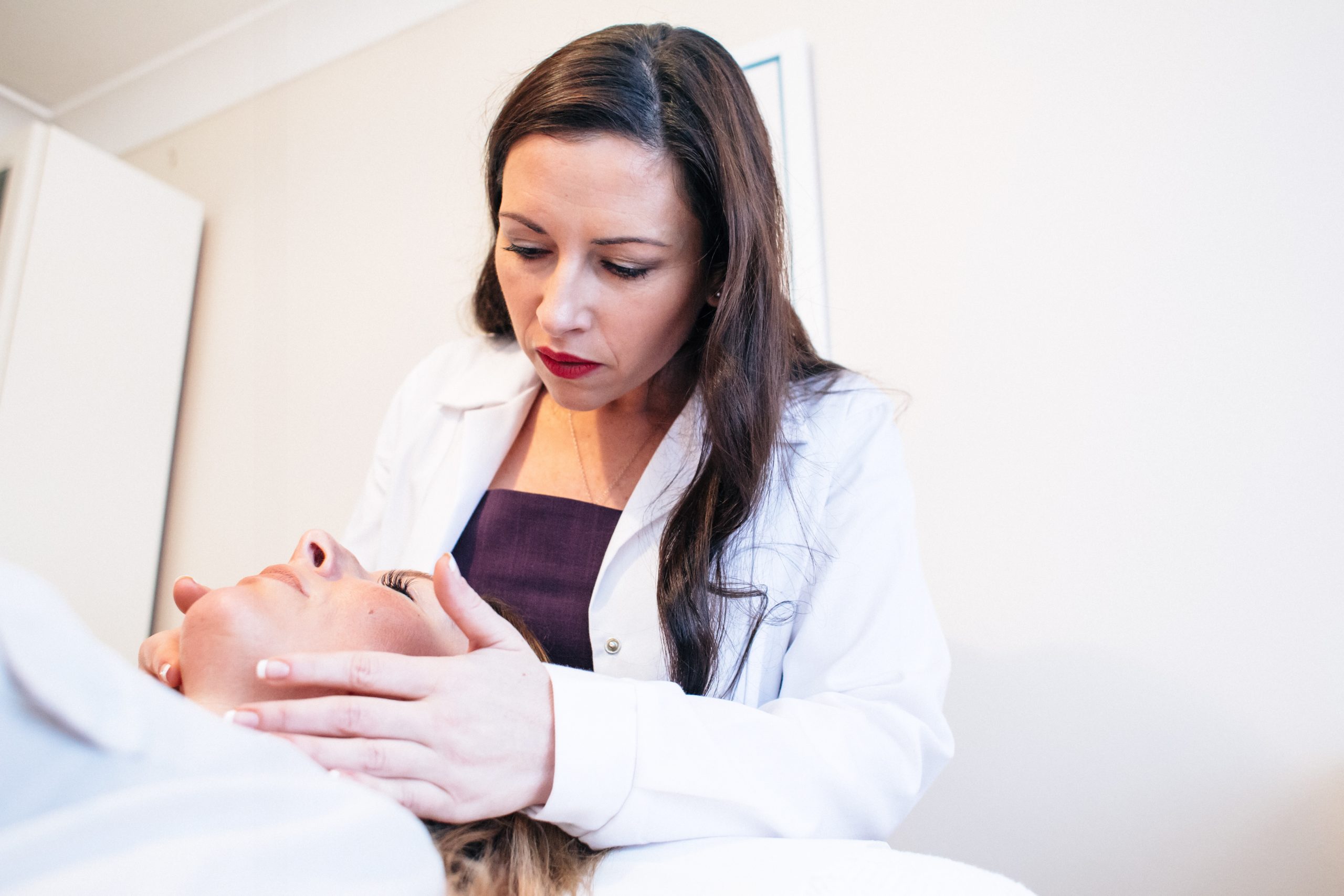 Im Lou, registered Dermatology Nurse and self-confessed skincare obsessive.
I have decades of skin experience -both from 'beauty-land' and medical dermatology.
I know what works and how to make your skin glow.
I want your skin to look radiant and healthy, and for you to relax and feel beautiful.
"I know it can be over whelming choosing the right face/skin treatment which is why I take the guess work out for you, I will create a bespoke treatment each time I see you"
Heres what could be involved, some of which I will choose for you depending on your skin assessment, skin goals and treatment booking time:
Deep cleansing
Facial / shoulder massage; lifting / pressure point; manual and / or with facial tools
Micro-needling
Exfoliation / Chemical peel
Treatment mask
LED light therapy
Blemish removal
 You choose your time on the couch – See below for your options.
 Once we've confirmed your appointment, I will send you a health questionnaire to complete before I see you.
On the day I will assess your skin and we will discuss your needs.
I will create and deliver your bespoke skin treatment.
Aftercare advice and personalised skin tips / recommendations will be given verbally and via email.
The MiniFace | 30mins
The quick fix.  Think a deep cleansing boost or a speedy chemical peel for those who are short on time and want fast results.
£95
FAQ's
What's the difference between a spa/salon facial and a medical skin treatment?
My medical Face-All treatments will address your skin concerns, prevent skin issues and of course improve your skin health, they are not a one-size fits-all treatment, each treatment is bespoke and tailored to your skin needs.
Maximum results come from medical grade products and techniques. You will not find a aromatherapy oil in my kit (unless its to burn in my humidifier!).
I understand skin, it's ageing process, why and how pigmentation/acne/rosacea (etc) develops and worsens. Im thinking about your longer term skin needs and not just treating the surface of your skin. Not to mention, I am a medical pro, specialist Dermatology Nurse with advanced training, qualifications and experience.
Do you need a consultation before the treatment?
No, I will always assess your skin on the day of your treatment, plus I will send you a online pre-treatment questionnaire to complete before you come in.
How do I book?
Please email me
louise@theskinnurse.co.uk
with your availability and I'll do my best to accommodate you and get you booked in.
Where are you based?
I use a treatment room on Teddington High St, and in Esher and also have a discreet garden clinic near Sunbury (30 seconds off the A316).
Can I book online?
Currently I organise my own bookings the old fashioned way! 🙂 Drop me a email with your availability and I'll get you booked in.
Will you get aftercare advice?
Of course – Aftercare must be followed for you to get the best results. I will verbally give you any information you need whist you're in clinic with me and I will also email it to you.
What products will be used?
Depending on what your skin needs I will use a combination of Skinceuticals, Obagi and various other high end favourites of mine.
Will there be any down time?
This will depend on the depth of peel that's applied (IF one is applied) and what result you want. Some peeling from a stronger peel can show up 3-5 days after. But I will advise you on how to best manage this.
Can you have a strong peel straight away?
This is unlikely unless I've treated your skin previously and your skin is prepped.
Will your skin be red afterwards?
Unlikely, as I like my treatments to be as anti-inflammatory as possible. However treatments to combat acne scarring and pigmentation can cause some redness – I will always warn you before we go ahead. Please warn me if you have any special dates coming up after your treatment so I can tailor it to ensure you look your best.
How often can you have a facial treatment?
Alongside your skincare at home, a face treatment is recommended every 4-6 week, depending on your budget and skin goals.