If you've read anything about me, you'll know I love all things skin related.
I know that the benefits form having a skin treatment or facial are not just to soften and deep cleanse our skin.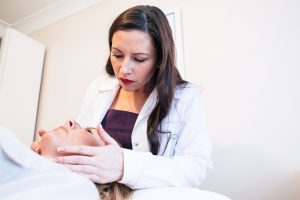 The human touch, the massage and all the nice layering of gorgeous products makes a big difference to how we feel too.  Don't you feel totally lovely and cozy after a facial?
I know I do, which is why I am currently researching the best facial in and around London, someone's got to do it, right?!
I often feel a bit of a cheat when I give someone a skin peel because its all over and done with pretty quickly, so I wanted to offer something a bit more luxury too…
Imagine combining the luxury of a spa facial treatment with advanced cosmeceutical skin products AND the techniques of a skilled Dermatology nurse, who was (in a past life) a beauty and massage therapist…
The results would be beautiful.
If you fancy treating yourself and getting that gorgeous feel-good factor, alongside flawless skin and lay down and be pampered for a hour, then you are on the right page.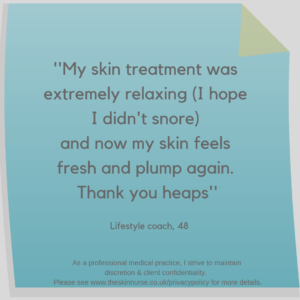 After a full skin analysis, a bespoke treatment will be designed to address your individual skin-specific needs and send you off to relaxation land.
A full skin treatment which will include all the components of a facial.  The cleansing, exfoliating, possibly a peel (if appropriate) a nourishing mask, a massage and you'll be left with super smooth hydrated skin to go home with, plus of course a SPF…
Treatment is approximately one hour and costs from £250.
Book your consultation below.